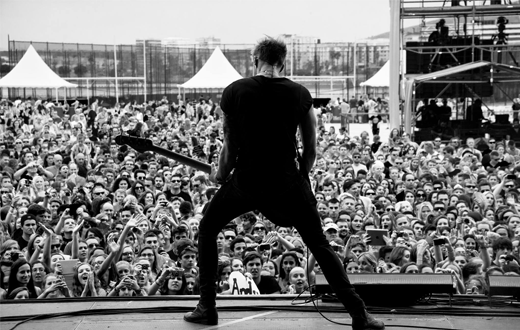 06 Sep

Autumn Festival Fun

As another summer draws to a close, it's important to fill the pages of your autumn diary with up coming events to have plenty to look forward to and kick those post-summer blues in the butt. The good news is that the live music scene in Andalucía truly comes alive in September, October and November and offers some of Spain's best alternative music festivals, right on our doorstep.
Luna Mora, Guaro, 9-10 September:
Now in its 20th edition, Festival de la Luna Mora held in the beautiful, traditional white-washed Andalucían village of Guaro (40km from Málaga) is famous for illuminating the small town with over 20,000 candles. The local community of some 2,500 people keeps its Moorish history very much alive with the annual festival. Luna Mora in English means Moorish Moon. Always held between the middle two weekends of each September, this arts, crafts and music festival has grown from a humble celebration into a significant event playing host to local, national and international talent. Artists from the fields of classical, popular and flamenco music and dance offer concerts in the village's purpose built, open-air amphitheatre. Past performers have included internationally acclaimed classical guitarist Paco de Lucía; contemporary flamenco/pop singer Diana Navarro; and Malaga-born pop singer Pablo Alborán.
This year the main headline artists are Pablo López –  originally from Fuengirola he reached national fame after appearing in the music competition show Operación Triunfo – and Daniel Casares – a young, very talented Flamenco guitarist, composer and producer also from Málaga.
Monkey Week, Seville, 13-14-15 October:  
Hugely popular festival Monkey Week describes itself as "the meeting point of independent music in Spain. The destination where artists, professionals, press and public come together and share a unique experience. The perfect mix between festival, forum and fair." In other words – a big, fun-filled, mixed, alternative music festival! Until this year, the festival has always been held in Puerto de Santa Maria in Cádiz but due to ever-increasing popularity has simply got too big to be accommodated by the town. Next stop Seville, the capital of Andalucía – couldn't have been anywhere else! The festival features over 100 shows from national and international emerging and established artists on the indie music scene. Tickets are already selling fast so if you fancy a Glastonbury-style festival without the wellies, mud, rain and crusties, get yours fast.
Blues at Moonlight, Benalmádena, 3-4-5-6 November:
The very best rhythmn and blues, rockabilly, rock 'n' roll and swing concerts all lined up in one of the Coast's most stunning and acoustically appeasing venues, Blues at Moonlight in its 9th year is an awesome, small, VIP festival held in the Moonlight Cabaret Theater in Hotel Sunset Beach Club, Benalmádena. This year's festival features top names from the scene from the UK, Scotland, France, Holland, Germany and Spain such as Ray Gelato "The Godfather of Swing" (UK), Jake Calypso and his Red Hot (France) and the Shooting Stars (UK). The festival also features a vintage market and hot cantina food. There are several very well established rhythmn and blues and rock 'n' roll festivals held in Spain each year but none can match the intimacy, electricity and exclusivity provided by Blues at Moonlight. An absolute must date for appreciating top quality live music in a buzzing but intimate atmosphere and rocking your butt off! For more information check out the official website at bluesatmoonlight.com